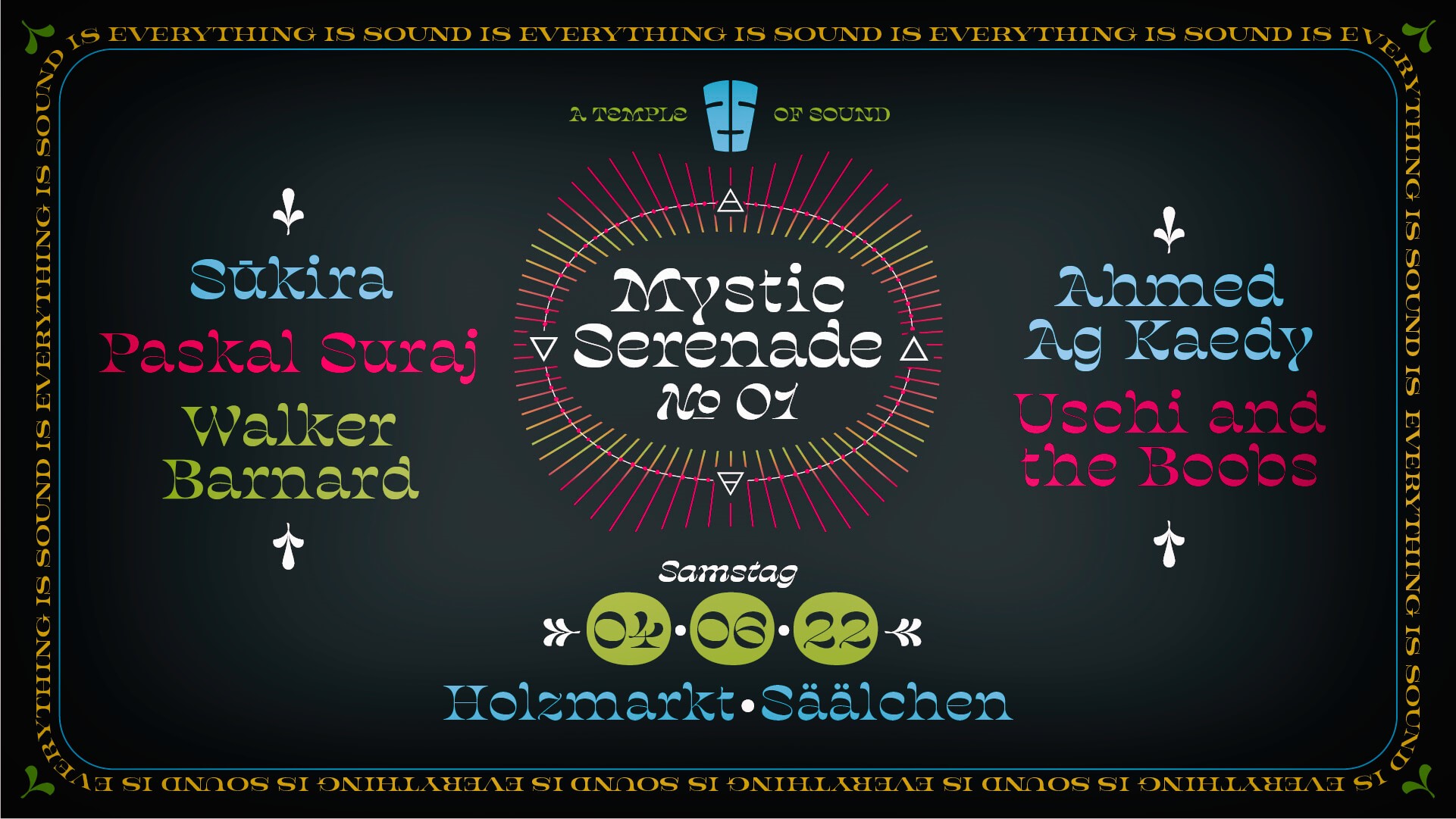 Mystic Serenade (Säälchen, Konzert)
Mystic Serenade No.1
Everything is sound, sound is everything.
Sounds are a gateway to our souls, the threshold to the ever existing now.
It can make a being perceive itself, it can create contact to our inner child, to life.
An evening of sounds from different souls out of different times, from different regions of the world.
Dive into the temple of sound, let your self fall into the moment, expect nothing, just be,
experience.
mit
USCHI AND THE BOOBS
sind drei Schwestern, deren unterschiedliche Essenzen zu einer einzigartigen Dreistimmigkeit verschmelzen, die sie mal mit zarten Klängen, mal mit urbaner Pussy Power abfeuern. Aus einer Sammlung besonderer Perlen aus feinen Songs, Sprechgesang, Poesie, sexy Beats, Tanzstücken und Ritual entstehen bunte Bilder und ein besonderes Happening.
————————————
Sūkira
Deep Sufi inspired sound that transcends boundaries and brings mystical intoxication to the dance floor. Creating potent ritualistic swirls of ecstasy for the body, mind, and soul. A collaboration between Paskal Suraj, Walkerji, and a global family of musicians spanning continents.
Paskal Suraj brings the voice, oud, and bouzouki to the group and is a globe trotting luminary and member of the Sufi Qawwali group Fanna-Fi-Allah. He has made a life of seeking out the most resonant and potent songs and music from traditions across the world. A serious student of sacred music and master of living the life extraordinary.
Walker ji provides the production, beats, and electronic context for the ensemble. He grew up in an ashram with parents who introduced him to meditation and sacred music traditions at an early age. His journey has wound through myriad sonic chapters across scenes, countries, and decades, playing deep in the Berlin clubland trenches for years and now based in Bali producing music, festivals, and lighting up intentional dance music spaces around the world.
Walker ji is the founder of Uma Sai.
As Sūkira travels the world they collaborate with a select group of high level musicians who have spent years in their study of middle eastern, Sufi, and Indian music incorporating them into the ensemble for site specific events.
————————————
Ahmed Ag Kaedy
is a legendary Malian Tamasheq singer and musician from the town of Kidal, his sound is a unique expression of "desert blues" and his voice and lyrics express the deep mysticism of the desert.
————————————
LIQUID BRAIN SPA  Live Orchestra (6 hours duration)
Join us in the Liquid Brain Spa. Be surrounded by beaded beds, bubbles and reflections. A light show of marbled colours and dreamy landscapes, awakening your erotic senses. Feel a moment of pure indulgence, luxuriate in your imaginations and travel through the sound.
An orchestra of wind, brass, strings, percussion, and symbols, delight the night with an endless duration of melodies, grooves, and a morpheus composition of hypnotic noise. We delve deeper into our subconscious, exploring how an idea as simple as a disco ball on a piece of string can flourish and thrive into an iconic landmark of cultural history. Bar25. Come smell the wood.
Neueste Kommentare
Keine Kommentare vorhanden.